Expert Articles & Advice
October 22, 2014
Sawyer Garden Center is going nuts for national Nut Day! October 22nd has been named "National Nut Day" by Liberation Foods. Why would nuts have their own day? Well it turns out that nuts are very nutritious and are a balanced part of any diet, especially vegetarian or vegan diets.
October 14, 2014
Jump out of your couch and throw your hands in the air, because SGC has some game changing snacks for this football season. Note: Being a football fanatic is not required to enjoy these tasty treats. What if I said you could pair your beer, with your snacks!
Special Events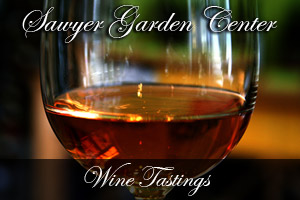 Great Wines and Conversation
We are doing tastings Friday from 4pm-7pm, Saturday from Noon-5pm and Sunday from 1pm-4pm. Every Week! Sawyer Garden Center will hold wine tastings at the store location. We hope you'll join us in this serene environment for great conversation and award-winning wines.
Check out our
location map
for help finding us. Be sure to sign up to our email list on the left for other wine tasting events that will be coming soon.